Viet Nam launches 2022 National Action Month on HIV/AIDS
November 07, 2022 3:08 PM GMT+7
VGP - The National Committee for AIDS, Drugs and Prostitution Prevention and Control launched nationwide National Action Month for HIV/AIDS Prevention and Control 2022 from November 10 to December 10, 2022.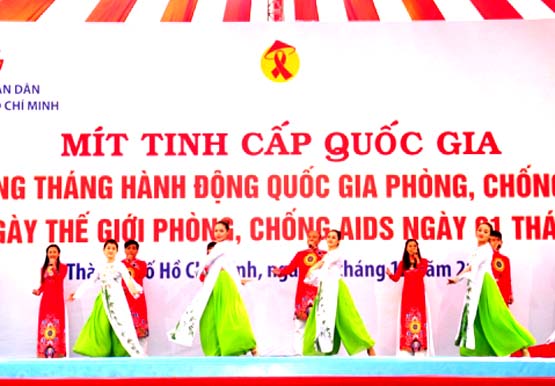 In 2022, Viet Nam chose the theme of Action Month as "End AIDS - Youth Ready!". Depending on specific conditions, units and localities will organize conferences and seminars to warn that the AIDS epidemic continues to become increasingly complicated and difficult to control.
First, it appears that HIV transmission is changing through unprotected sex among men who have sex with men, transgender people, synthetic drug users, sex workers and sexual partners of these groups.
The second set of communication issues includes HIV testing and counseling; treatment of addiction to opiates with Methadone; pre-exposure prophylaxis with antiretroviral drugs (PrEP); and HIV treatment with antiretroviral drugs.
Third, Viet Nam is already one of the few countries with the highest quality of HIV treatment in the world through the control of viral load below the detection threshold with a very high rate.
Also, Viet Nam is among the few countries that have successfully transitioned from aid-based HIV treatment to health insurance, ensure sustainability not only for the program but also for the patients.
Some other prominent communication activities include the launching ceremony of the National Action Month for HIV/AIDS in 2022 and the meeting in response to the National Action Month for HIV/AIDS and World AIDS Day on December 1.
Additionally, there will be many HIV/AIDS prevention and control activities, namely introducing the benefits of early access to HIV testing services, the facilities providing HIV/AIDS prevention, care and treatment services available, and expanding the provision of HIV/AIDS prevention and control services.