Transformation of financial resources for HIV prevention and control achieves impressive results
November 24, 2022 3:13 PM GMT+7
VGP - After nearly ten years of unremitting efforts and solid political commitments, Viet Nam transformed domestic financial resources for HIV prevention with impressive results.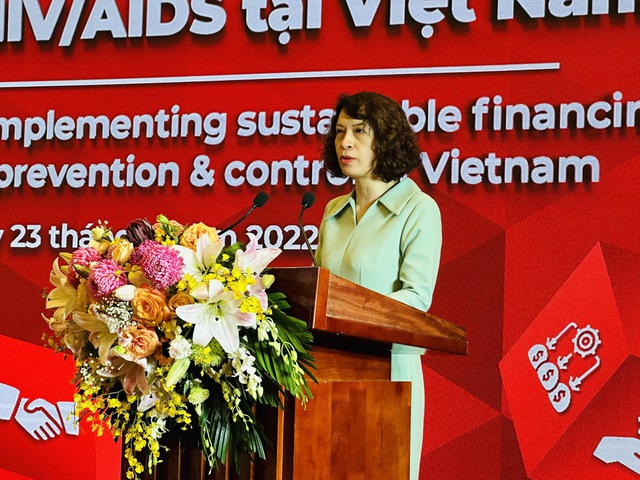 The Administration for HIV/AIDS Control (Ministry of Health - MOH) held a conference on November 23 to review ten years of financial guarantee for HIV/AIDS prevention and control activities in Viet Nam (2012-2022).
On October 15, 2013, the Prime Minister issued Decision 1899/QD-TTg approving the project to ensure financial support for HIV/AIDS prevention and control activities in 2013-2020.
To implement this Decision, MOH actively developed a roadmap for the implementation of solutions, which guided and supported provinces and cities in financial security plans for the whole period.
Up to now, the proportion of domestic financial sources increased to more than 51 percent, of which the proportion of the local budget allocated to HIV/AIDS prevention and control has continuously increased from 8 percent to 17 percent.
In addition, the Health Insurance Fund was a breakthrough in the HIV/AIDS prevention and control program in Viet Nam, with 95 percent of people living with HIV participating in health insurance, doubling within five years.
The health insurance fund paid an average of VND400 billion/year, of which about VND200 billion were for health insurance services and VND200 billion for ARV drugs from the health insurance fund.
This raised the share of the Health Insurance Fund in total spending on HIV/AIDS from 4 percent to 9 percent, accounting for 25 percent of the country's resources for HIV.
Additionally, the central state budget through the National Program on HIV/AIDS prevention and control, the HIV/AIDS prevention and control project under the National Target Program on Population Health in the past period also accounted for nearly 10 percent.
Other sources of socialization also increased significantly, up to 8 percent.
At the Conference, Deputy Minister of Health Nguyen Thi Lien Huong said that the Government had approved the national strategy to end the AIDS epidemic by 2030.
Many solutions have been proposed to achieve this goal, including that 100 percent of localities must develop and submit to competent authorities for approval plans and schemes on financial security for HIV/AIDS prevention and control by 2021./.