VN, Cambodia, Laos enhance anti-crime cooperation
July 30, 2014 2:39 PM GMT+7
VGP -The second Cambodia-Laos-Viet Nam Ministerial Conference on crime prevention and control was held in Da Lat City, Lam Dong province on July 29.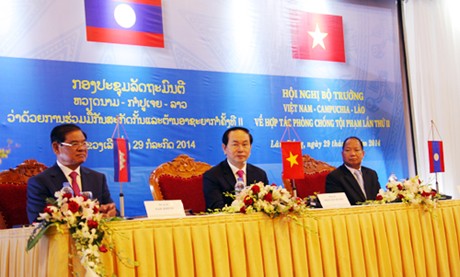 Speaking at the opening ceremony, Vietnamese Minister of Public Security Tran Dai Quang highly valued the cooperation among the three countries in crime prevention and fighting, maintaining security and order and promoting traditional ties of friendship and solidarity.
Three nations' ministries including the Viet Nam's Ministry of Public Security, Cambodia's Ministry of Interior and Laos' Ministry of Public Security have fostered broad cooperation, ensured national security and social order, and guaranteed national socio-economic development over the past three years.
At the conference, the three countries signed a cooperative agreement on anti-crime, to deal with the migration issues.
They also shared experience in crime prevention, import-export control, and migration in border areas. They agreed to enhance cooperation in information exchange and ensure security and order in border areas, as well as in the Development Triangle Area.
The ministers signed the joint declaration in crime prevention, guaranteeing security and order in the future.
By Thuy Dung