USAID helps clients of HIV services access medications
VGP –USAID's Enhanced Community HIV Link Southern project launched a series of positive talks called "My Dear, Just Breathe!" with a range of speakers including frontline physicians, influencers, and wellness coaches.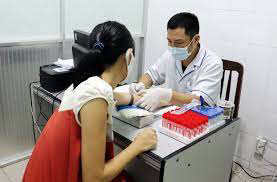 The project aims to help clients of HIV services stay informed on how to access medications and take care of their health.
Viet Nam has endured months of strict social distancing and lockdowns in major cities and provinces to limit the spread of COVID-19.
When social distancing began in April, staff and clients of HIV programs reported increased stress and anxiety associated with lost income, social isolation and fears of infection.
Clients raised a variety of topics and questions on the COVID situation, vaccination, preventive behaviors, HIV medication (ARV and PrEP) enrollment and prescription refills during lockdown, nutrition, and physical and mental health wellbeing. Six episodes were aired with each garnering more than 1000 views.
USAID's support is helping people living with HIV, LGBTQ , and other vulnerable communities maintain access to continuous care with both physical and mental health services during the pandemic- related lockdown in Viet Nam.
By Hoang Ha