Three arrested for smuggling 46kg of crystal meth from Laos into VN
August 24, 2021 9:19 AM GMT+7
VGP - Border guards in the central province of Quang Tri have busted a trans-border drug trafficking ring from Laos to Viet Nam, seizing 46kg of crystal meth, the provincial Border Guard Command announced on August 23.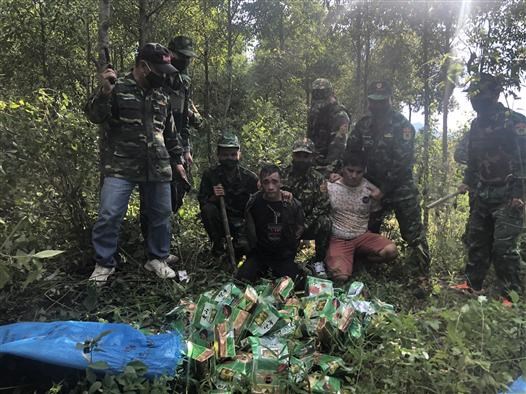 Two traffickers were arrested in Ka Tieng Village, Huong Viet Commune, Huong Hoa District at around 4:05pm after being caught red-handed carrying the drugs, a pistol and six bullets.
Another person involving in the ring was taken into custody few hours later while being on a Laos-registered car.
The case is under further investigation.
Viet Nam severely deals with drug smuggling and transporting activities and is an active nation in collaboration with other countries in combating and preventing drug crimes.
The number of synthetic drug users in Viet Nam has jumped six-fold since 2017, the U.N. Office on Drugs and Crime said its report themed "Synthetic Drugs in East and Southeast Asia: latest developments and challenges 2021".
It is estimated the figure at nearly 190,000 last year.
The seizures of almost 2.5 million tablets of methamphetamine in 2020 surpassed the combined quantities recorded for 2018 and 2019.
While the amount of crystalline methamphetamine seized in 2020 was lower than that recorded for 2019, it was still significantly greater than the annual amounts seized before 2019.
By Hoang Ha