Thanh Hoa busts drug trafficking ring
May 21, 2021 2:19 PM GMT+7
VGP - Police in the central province of Thanh Hoa reported on May 19 that they busted a drug trafficking ring from Laos and confiscated 10kg of meth.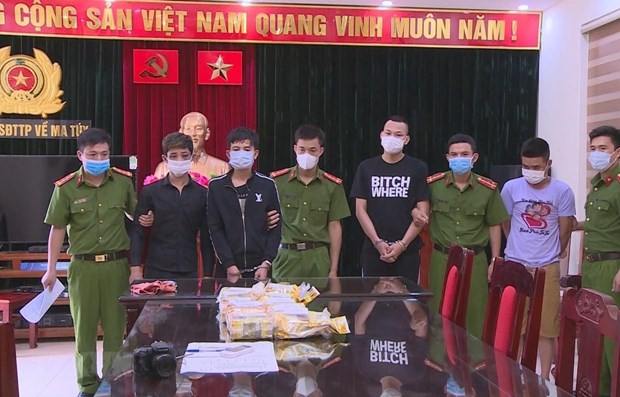 Arrested traffickers include Hoang Ngoc Toan, 31; and Trinh Van Huy, 25, both residing in Truong Xuan commune, Tho Xuan district; and Pham Trung Kien, 20; and Tran Van Chung, 32, both residing in Lam Son ward, Bim Son township.
On the scene, police seized 10kg of meth, seven mobile phones, an automobile, nearly 600 million VND and a military gun.
Investigation on the case is ongoing.
*A Ha Noi man received a death sentence for transporting over 2.5 kilos of ecstasy into the city last year.
The court in Ha Noi handed two sentences on Tuesday to Pham Cao Khuong, 37, on the charge of "illegally transporting narcotic substances," and "illegal possession of narcotic substances," punishable by death and eight years in jail respectively.
Khuong, a resident of Ha Noi, was caught by police on July 13 last year carrying a cardboard box on Kim Dong Street of Ha Noi's Hoang Mai District.
Inside the box were three more boxes containing 5,441 ecstasy pills weighing over 2.5 kilos.
A later search of Khuong's home uncovered a bag of ketamine in the form of flour and 50 more ecstasy pills kept in a safe.
According to the verdict, while in prison on another charge, Khuong met a prisoner named Ngo Nhat Anh. The duo stayed in touch after both got released.
On the night of July 10, 2020 Anh called on Khuong to receive a drug shipment from Ho Chi Minh City.
Accordingly, Khuong would be paied VND15-20 million (US$650-870) on completion of the job.
The next night, Anh visited Khuong to drop the ketamine along with 50 ecstasy pills, telling him to wait for further instructions.
Anh also gave Khuong a mobile phone to receive calls from a person who had brought the drugs from HCMC to Ha Noi.
Following Khuong's testimony, investigators have identified Anh as a local resident in nearby Nam Dinh Province, currently at large.