Suspected Taiwanese drug traffickers prosecuted
April 18, 2014 2:23 PM GMT+7
VGP - Vietnamese police officials on April 17 announced the prosecution of three individuals of a transnational drug smuggling ring, accused of trafficking 600 heroin cakes via air flights from Vietnam to Taiwan.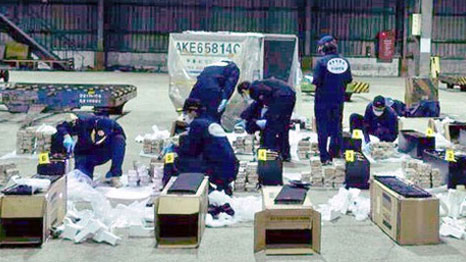 They are 34-year old Sung Yuan Hsuan, 40-year old Pan Po Chung, and 37-year old Chen Kuo Shun, all of Taiwanese nationality.
According to officials, the trio rented a guesthouse in HCM City towards the end of last year and purchased acoustic stereo speakers in which they concealed small packets of heroin prior to shipping to their homeland via air flights to Taipei.
On November 17, 2013 customs officials at Taoyuan International Airport in Taipei seized 600 heroin cakes weighing 229kg that was hidden in 12 stereo speakers valued at roughly US$300 million, on a flight originating from Tan Son Nhat International Airport in HCM City to Taiwan.
Taiwanese police have previously made seven arrests in connection with the investigation of the transitional drug smuggling ring, including one Vietnamese./VOV./.