HIV/AIDS spreads to ethnic minority areas
January 24, 2013 6:24 PM GMT+7
VGP – HIV/AIDS has spread to almost all ethnic minority population. Some areas are suffering from extremely high rates of infection, according to the latest report of the Committee of Ethnic Minorities.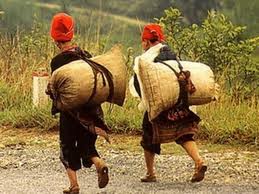 HIV/AIDS infection rate remains high in ethnic minority areas - Illustration photo
The report said that the border and ethnic minority areas saw high rates of HIV/AIDS infection due to rising illegal drug smuggling and consumption which are difficult to be put under control.
In the first six months of 2012, the central province of Quang Nam detected 25 new cases and Quang Ngai Province 86 cases. Meanwhile, 189 fresh cases were uncovered in Hau Giang Province.
Especially, in Kien Giang Province which shares border lines with Cambodia (on land), Thailand and Malaysia (in the sea), the disease outbreak evolved complicatedly. The local rate of HIV infection is two times higher than the national average figure with 5,000 cases in which most of patients are ethnic minority people.
According to experts, as residents living in mountainous and ethnic minority areas face with complex terrain, harsh natural conditions, high poverty rates, poor education standards, it is difficult to disseminate knowledge of drug prevention to these communities./.
By Khanh Phuong