Drug-popping partygoers detained, fined amid COVID ban on gatherings
May 08, 2021 2:16 PM GMT+7
VGP - Dozens of people across the country have been detained this week for partying and using drugs en-masse despite a ban on non-essential services amid the coronavirus crisis.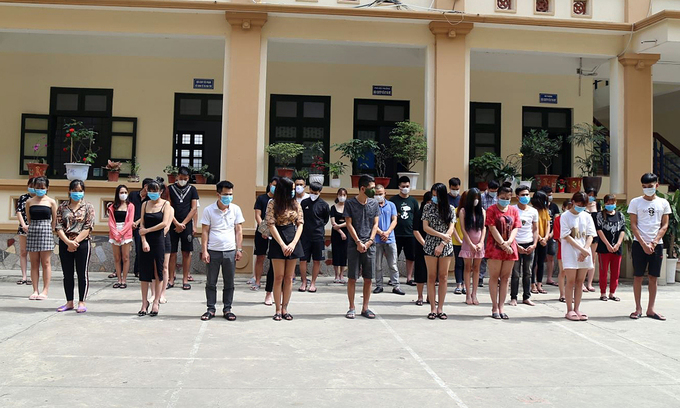 On Friday, 33 people at a karaoke parlor in northern Bac Ninh Province's Que Vo District were found partying and using drugs. Eighteen people tested positive for narcotics, said police.
The 37-year-old karaoke owner said he was aware of the province's ban on non-essential services for coronavirus prevention but still decided to operate in secret.
Those who tested positive for drug use have been detained and would need to go to rehab and be fined, police said.
The same day in northern Bac Giang Province, police raided a karaoke parlor in Son Dong District that allowed eight customers to use drugs. Both customers and owner were detained for further investigation.
In Quang Nam Province in the central region, 32-year-old Vo Van Truong and 26-year-old Phan Si Loi were arrested for allegedly storing and using drugs, said police on Friday.
Two days earlier, police found eight people using drugs at a karaoke parlor, five of whom tested positive for narcotic use. Several pills were seized at the scene, with both Truong and Loi admitting to organizing the drug party, which is punishable by jail time.
Both the parlor's owners and drug users have been fined.
In Lam Dong Province in the Central Highlands, a similar incident occurred when a karaoke parlor allowed 13 customers in on Thursday, six among whom were using drugs.
In Da Nang, 12 people were also found using drugs at a hotel in Thanh Khe District on Thursday, local police said Friday.
Viet Nam is currently experiencing its fourth coronavirus wave, which has seen 176 community transmissions recorded in 19 cities and provinces including Bac Ninh, Da Nang, and Quang Nam since last week.
Localities have swiftly moved to contain the disease, including shutting down non-essential services including karaoke parlors to prevent large gatherings.