Number of synthetic drug users increase six-fold since 2017
June 18, 2021 2:34 PM GMT+7
VGP - The number of synthetic drug users in Viet Nam has jumped six-fold since 2017, the U.N. Office on Drugs and Crime said its report themed "Synthetic Drugs in East and Southeast Asia: latest developments and challenges 2021".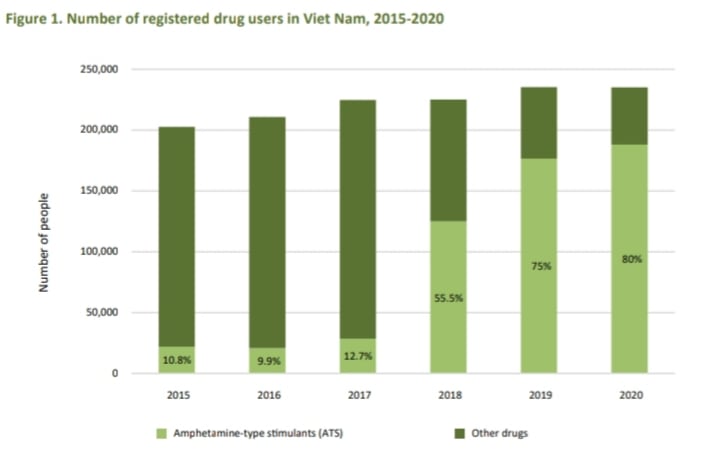 It is estimated the figure at nearly 190,000 last year.
The seizures of almost 2.5 million tablets of methamphetamine in 2020 surpassed the combined quantities recorded for 2018 and 2019.
While the amount of crystalline methamphetamine seized in 2020 was lower than that recorded for 2019, it was still significantly greater than the annual amounts seized before 2019.
The continued increase in the number of registered people who use amphetamine-type stimulants (ATS), predominantly methamphetamine, indicate that the methamphetamine market remains significant in spite of the COVID-19-related restrictions.
As for the past decade, the total amount of methamphetamine seized in East and Southeast Asia has continued to increase, reaching another record level in 2020 with preliminary data showing at least 169 tons of methamphetamine seized.
Though there was a decline in seizures in East Asia, it was more than offset by the increase in seizures in Southeast Asia, largely due to the lower Mekong countries, which accounted for 71 per cent of the total amount of methamphetamine seized in East and Southeast Asia.
Several trafficking routes have emerged, and seizures of methamphetamine point to diversified sources of the substance.
By Hoang Ha